Promanade Park
Boynton Beach, Florida
---


Promenade Park is the centerpiece of the Boynton Beach Redevelopment Agency's work whose goal was to provide a link to from the urban corridor of Boynton Beach to the natural beauty of the Intracoastal Waterway and the adjacent 13 acre mangrove preserve. This park was the first step in the City's successful redevelopment program and served as a catalyst for more than $20 million dollars of other work at the adjacent marina and other public facilities.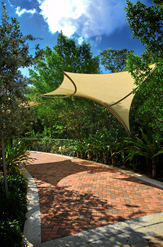 The park's construction involved critical coordination with various state and federal agencies to ensure protection of the sensitive environments within the Intracoastal Waterway and the adjacent mangrove preserve. The park's amenities include an Intracoastal viewing area, benches, paver brick walkways, artistic shade structures, extensive native landscaping, site lighting and interpretive signage. Jonathan T. Ricketts served as the construction manager of this project.
---
Keys to Success: Multiple weekly job meetings, budget development, constant communication among all participants.